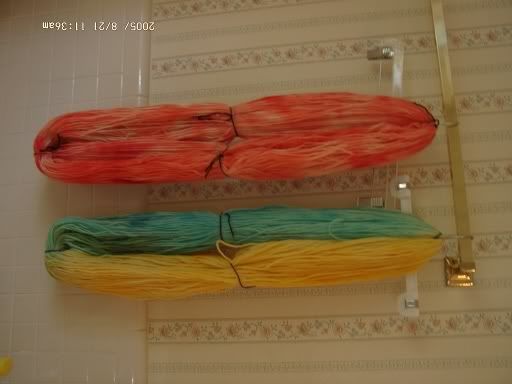 Oh, this is weird. I'm blogging now. Something I said I'd never do, along with half the other things I've done in this life.
Well, I guess since it's a knitting blog, I better post my UFOs.
First, there's this Christmas stocking for my mother-in-law that is taking forever, what with all the frogging. I just can't get her name to look right. Blah. I'll just duplicate stitch it in afterwards. At least the yarn looks cool. It's in blue and yellow kool-aid dyed Fishermen's Wool. The FW on the left is strawberry koolaid for my SIL's stocking.
Now I know why the aforementioned yarn is so inexpensive. It's full of VEG MATTER. Thank goodness that took the dye as well. Bleh. I'm getting Cascade for the next 5 I have to finish by Christmas.
Presently my hands are taking a beating on some marine Lana that I'm trying to knit my father a pair of birthday slipper-socks with. I forgot - woe is me - that I am allergic to blue wool dye and now my pinkies are all hivey. Poor pinkies.
Oh, yeah, there's also that almost-finished white acrylic baby romper in the knitting basket. One would hope that I could finish it before giving birth to my 2nd baby, but we'll see. Hopefully, it'll make it into the church bazaar in Sept, but man, I hate seaming.